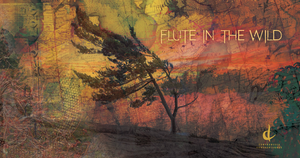 Welcome to Canada through a flute lens!
Who is the WildFlute?
"

Probably the most notable feature of Marsh's playing is her gorgeous sound—rich, full, even voluptuous. Beyond this she exudes confidence and total control in performances of expressive intensity and sensitive attention to color and the use of vibrato." - R. Markow
A cry from my heart for all the people suffering from disasters as a result of climate change.
Flute in the Wild is Jaye Marsh's debut album and is a celebration of the wild and beautiful spaces of Canada. This initial project features four fantastic Canadian composers sharing their experience of Canadian wild spaces through music for flute.
The featured composers are: Elizabeth Raum, Richard Mascall, Richard Herriott and Diane Berry. Get to know them on the composers page . The instruments featured with the flute include harp, bassoon, Indigenous storyteller, and piano. Meet the performers here. Get to know Jaye more at her personal website here.
Groundbreaking AI-assisted art video for 'Northern Lights'
Videos and Album
The WildFlute and the WildHarp call out the spirits to dance to the music celebrating their wild spaces.
A taste of all the beautiful music written for me set to paintings and images by Canadian artists.